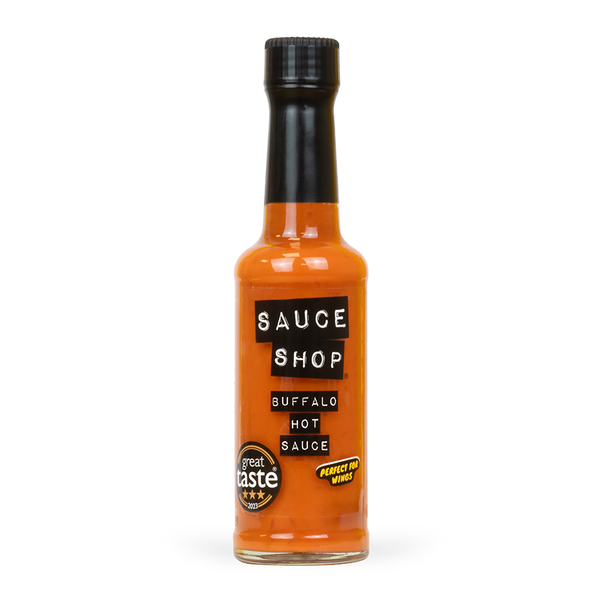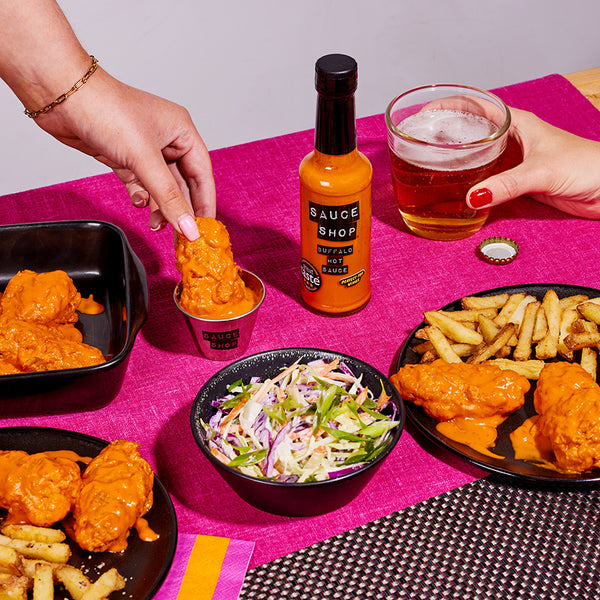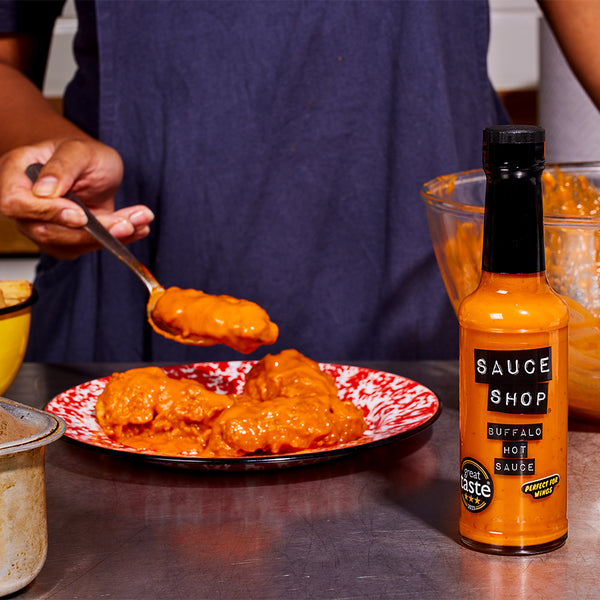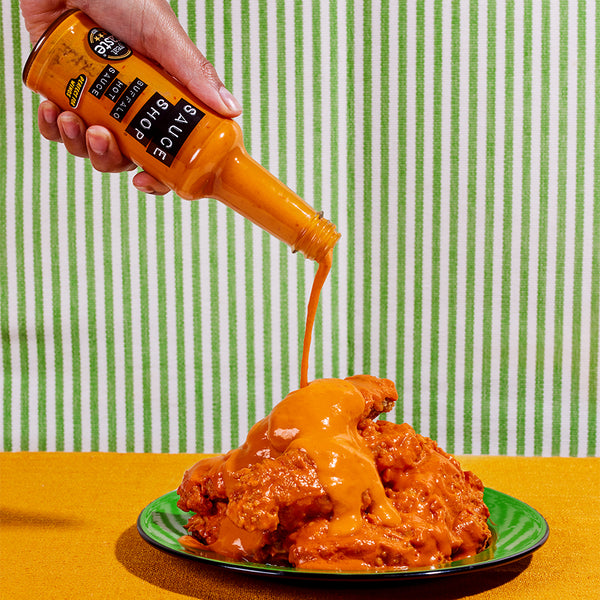 Our headliner... the bright orange 3-star Great Taste Award winner... 
Tastes like - quite spicy, tangy and salty with a slight creamy mouthfeel
Goes with - wings and other crispy chicken, pizza, fries, sandwiches and salads
3 star Great Taste Award winner
Heat level: hot
Made with our Signature Jalapeno Mash
Made in Nottingham in small batches
All natural ingredients, never anything artificial
Suitable for vegans
We couldn't say we have a favourite in our range but if we had to, this would be it. Awarded a 3-star Great Taste Award in the 2023 judging, one of only 248 entries globally awarded 3 stars. It's so good some of our team eat it on toast for their breakfast!
Hot, rich and delicious. This is possibly the perfect hot sauce.
It's hot, but not too hot. It'll tingle your tongue without melting your face (or your insides). It's tangy without being a complete vinegar-fest. It's bursting with flavour, starting with a hit of spicy, tangy, salty goodness, it quickly mellows with a rich, garlicky, creaminess that keeps you coming back for more and more.
The secret is our Signature Jalapeno Mash, we take perfectly ripened Jalapeno Peppers, salt them and then age them for 2-4 weeks to accentuate the fruity flavours.
We love it on any crispy chicken: wings, drums, strips, nuggets or a burger, it doesn't matter, it's good regardless. It's also great for dipping things in, think fries, pizza crusts and even a grilled cheese sandwich. Make it part of your marinade for homemade wings or chicken strips and you're definitely going to be in for a good meal.
Ingredients and Nutrition
Ingredients: White Grape Vinegar, Aged Jalapeno (28%), Tomato Puree, Rapeseed Oil, Garlic, Tamari (Water, SOYABEANS, Salt, Spirit Vinegar), Salt, Coconut oil, Citrus Fibre.  (see allergens in BOLD).
| Typical Values | Amount per 100g |
| --- | --- |
| Energy | 100 kcal / 415 kJ |
| Fat | 8.8g (of which saturates 3.0g) |
| Carbohydrate | 4.2g (of which sugars 3.1g) |
| Protein | 1.9g |
| Salt | 4.21g |
Storage information
WIll be delivered with over 12 month shelf life. Store in a cool dry place, once opened keep refrigerated and use within 12 weeks. Shake well before use.

What are Great Taste Awards?
Frequently Asked Questions
Is Buffalo Hot Sauce spicy?
Yes, Buffalo Hot Sauce is spicy. It's not the hottest sauce out there, but is made with our aged jalapeños and vinegar to give it a sharp hit so you'll be met with a good amount of heat.
View More
Save up to 30%
Create a custom box full of sauces and seasonings and save on your sauce. *Save 30% when you subscribe to a box of 18 items
Join our Flavour Forum for recipe ideas.
How We Make Buffalo Hot Sauce
We've delved into what makes our Buffalo Hot Sauce so special. We're talking about the recipe, the cooking process and recipe suggestions.