Frequently asked questions
Is your full range available in store?
Unfortunately not, supermarkets only take a limited number of flavours, our 'headliners', these are Tomato Ketchup, Original BBQ Sauce, Honey Chipotle BBQ Sauce, Original Hot Sauce and Buffalo Hot Sauce.
Additionally Sainsbury's also stock Scotch Bonnet Jam, Amarillo Chilli Jam, Smoky Chipotle Ketchup, Sriracha Chilli Sauce and Carolina Mustard BBQ Sauce.
Boots and Whole Foods Market also stock a wider range.
Will every store have stock?
Not every store will stock all of the flavours, some might not have any at all. Usually the larger the store the more like it is to carry more flavours. We're not usually available in the smaller local stores of the supermarkets.
How much are they in store?
Each shop is slightly different but they range from £2.75 - £3.50 depending on the flavour and the size of the product.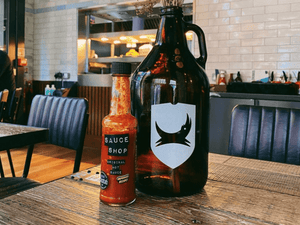 Find us when you're eating out...
We work with loads of pubs and restaurants including BrewDog, Patty & Bun, 7bone and Head of Steam.