Sauce Shop is Crowdfunding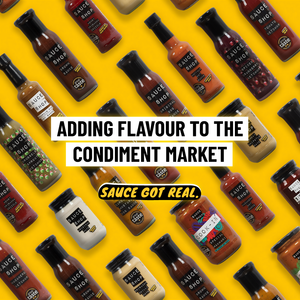 OWN A BIT OF SAUCE SHOP!
Invest as little as £10 to own shares in Sauce Shop as part of our latest crowdfunding round. Join the journey and support our mission to make Sauce Shop a household name.
*Capital at risk.
*CAPITAL AT RISK
With products stocked in Sainsbury's, Morrisons, Asda and Booths, as well as countless indie shops and restaurants, Sauce Shop is growing! We are back on Crowdcube to raise investment for expansion into additional major grocers, whilst growing the brand and adding top new talent to our amazing team.
If you are interested in investing, please click the button to visit our Crowdcube pitch.
frequently asked questions
Why are you crowdfunding?
We are crowdfunding to raise funds for the next step in our growth journey. With the investment gained from this round, we plan to grow our team, invest in equipment and inventory, as well as some great marketing initiatives.
What is equity crowdfunding?
Equity crowdfunding is the process whereby people (i.e. the 'crowd') invest in an early-stage unlisted company (a company that is not listed on a stock market) in exchange for shares in that company. A shareholder has partial ownership of a company and stands to profit on an Exit Event (i.e. IPO, merger or sale) should the company continue to perform well and increase in
value. The opposite is also true, so if the company fails investors can lose some, or all, of their
investment.
What is Crowdcube?
Crowdcube is a crowdfunding platform that enables start-ups and scale-ups to issue shares to
and raise money from a wide range of everyday and experienced investors who want to share in
the future of companies they believe in.
Who can invest?
Anyone over the age of 18 from anywhere in the world. However, due to local laws and regulations, retail investors located in the USA, Canada and Japan will not be able to invest in this crowdfunding.
Can I sell or transfer my shares?
You can express your interest in selling your shares in a company via Cubex, which enables you
to discover, research, and express an interest in buying or selling shares in private European
companies. If enough interest is expressed in a given business, Crowdcube will seek to facilitate
a transaction, and you will be notified when a sale goes live.Is the investment EIS eligible.
Will you be offering rewards?
Yes! As well as owning shares in Sauce Shop, each investor will be rewarded depending on the amount they invest. We have some great rewards on offer, which we'll be able to share more on soon.
What are the risks?
Most startups fail. Only invest what you can afford to lose.
If Sauce Shop doesn't 'exit' (i.e. IPO or acquired by another firm), you won't get your money back and you won't make a profit.
If Sauce Shop grows slowly, you might be waiting a long time for a return. Don't invest any money that you might need suddenly in an emergency.
CAPITAL AT RISK
Investments of this nature carry risks to your capital. Please Invest Aware